Why come to Greece for your medical needs?
Greek doctors are among the medical elite
6% of Greek university students are in the top 2% of the most influential scientists worldwide in 22 distinct scientific fields. Greece ranks 7th in the world in healthcare, based on the most famous doctors, best healthcare systems and best medical schools in the world. Specifically, The Medical School of Athens EKPA, founded in 1837 is the 1st medical school in the Balkans and among the leading Medical Schools worldwide, leaving behind 2/3 of American Medical Schools.
Greece produces more doctors than almost anywhere else in the world so you don't wait
Greece ranks 3rd in the world in the number of doctors per capita, with 5.1 doctors per thousand people. Also, approximately 750 new doctors are graduating each year from 7 Greek universities across the country. In Attiki, the county including Athens, there are 24 public and 72 private hospitals and clinics alone.
You will pay significantly less than in the "established" countries
An operation in Greece will cost as little as 1/5 to 1/3 of what you might pay in established countries in Europe, the American continent and Australia. A minor operation will cost you as little as 1/8 of what you may pay.
Our partners have made these medical realities for your benefit:
bloodless robotic procedures
operations with less post-operative pain and with greater safety,
minimally invasive medicine with the best aesthetic result
the shortest duration of hospitalization,
personalized surgery with 3D medical printing
heart valve replacement without surgery
Treatments we can offer you
Explore Greece's many prominant and hopeful fertility success stories
1980s
The first test tube baby was born in Greece in the 80s at the Athens Maternity Hospital and is the third in the world.
2011
A method of detecting genetic abnormalities of the sperm with its 24-hour competitive advantage is applied for the first time in Greece, it becomes known and is followed worldwide with Canada and the USA including it in the medical fertilization program. Speed and low cost rank it as a pioneer.
2014
At the age of 43,  the first mother in Greece with a transplanted kidney, underwent IVF with a donor egg and thanks to the pioneering IVF treatment in Athens, held a baby in her arms for the first time in an international first.
2015
A Greek Pioneering Technique for the treatment of infertility is inspired and applied for the first time by a Greek gynecologist by injecting appropriately processed platelets of the prospective mother herself directly into "tired" ovaries and the uterus.
Its application has a spectacular effect and 1000 menopausal or postmenopausal women produce their own eggs again and return to menstruation and fertility.
So far, 40 children have been born worldwide thanks to the method, with the number constantly increasing - a real miracle.
2016
A 67-year-old surrogate mother gave birth to her grandson and opened another page in the history of in vitro fertilization and surrogate motherhood in Greece. According to international literature, the pregnant woman is the oldest surrogate mother and baby grandmother in the world.
2016
A world first. Pioneering robotic microtomy surgery took place in Greece on a 39-year-old 8-month pregnant woman with cholecystitis, dangerous for her and her baby. It saved her life and other successful operations follow.
2019
A world medical first in assisted reproduction in Greece with a 32-year-old woman becoming a mother with her own genetic material by using the pioneering medical method of Maternal Spindle Transfer. Women do not need to resort to egg donation since with this method the donor participates with her own genetic material only in the mitochondrial replacement in the egg of the prospective mother, who keeps her genetic material and the nucleus of her egg intact. From 2019 to 2021 five more children are born with Maternal Spindle Transfer. The 6th child is born on May 24, 2021 to a 39-year-old woman.
2021
A world first in the middle of a pandemic - A baby from a mother with a kidney transplant and coronavirus was born in Greece.
Assisted Reproduction and Fertility Techniques
Oepsis

Sperm collection

Intrauterine Insemination IUI
Exosome in a Natural Cycle

Classical IVF

Preimplantation Genetic Diagnosis PGS (PRE GENETIC EMVRYO SCREENING)

Extracorporeal Mini IVF and ULTRA MINI IVF

Microfertilization In Vitro Maturation (IVM)

Assisted Hatching

ICSI micro-fertilization

IMSI Microfertilization

Combination of ICSI and IMSI Microfertilization

Time Lapse – 24 hour fetal monitoring with A.I-M.L

Freezing Eggs

Cryopreservation of Eggs, Sperm and Embryos

Assurance of Genetic Material-RI WITNESS SYSTEM
Non-surgical Rejuvination Treatments - "Lunch time Treatments"
The following treatments are for women with vaginal dryness, a feeling of discomfort or pain during intercourse (at least 50% of women experience it), small to moderate vaginal relaxation and mild forms of urinary incontinence.Treatments are carried out in minimum time with local anesthesia and with absolute safety the sinus atrophy is restored.
Treatment with injectable hyaluronic acid for the vagina and Labia Majora.  Specialized hyaluronic acid treats vaginal atrophy and treats dryness, itching, chronic pain and dyspareunia during intercourse. The result of hyaluronic acid placement lasts an average of 12 months.

Hyaluronic acid and the G spot: Sexual pleasure during menopause is achieved through injections of hyaluronic acid in the "G-spot" in order to swell the area by increasing the blood supply resulting in its stimulation. The effect of collagen lasts 4-6 months.
PRP (Platelet Rich Plasma): PRP is used in the area of the clitoris to improve its function, during sexual intercourse in the vagina to strengthen its mucosa, as well as in cases of mild incontinence, but also in lichen sclerosus.
CO2 Fractional Laser: Micro-traumas caused by the laser on the vaginal wall release growth factors and produce collagen, which gives elasticity and firmness to the genital area, cures dryness and discomfort.
Reproductive Robotic Surgery
Robotic Reproductive Surgery in Greece is Making Global Firsts
2014
A global scientific achievement was made when a 33-year-old woman with a rare bleeding disease of the uterus since she was 11 wanted to become pregnant. Dissuaded by the international community from attempting pregnancy because of the danger, she returned to Greece from Harvard with confidence in her Greek doctors. She was guided through a successful embryo transfer, pregnancy and the birth of healthy twins. It was a recorded worldwide as a unique medical success story.
2016
A world first: Pioneering robotic microtomy surgery in Greece on a 39-year-old 8-month pregnant woman saves her life and other successful operations follow. There was not the slightest problem in her recovery.
2017
The first gynecological robotic surgery was successfully performed in Athens with the new state-of-the-art 4th generation robotic system, in a case of extensive endometriosis removal.
2018
The dream of new life came true in Athens, for a couple with a very rare medical condition. The prospective 33-year-old mother with infertility and an ovarian tumor, thanks to endoscopic and reproductive robotic surgery, became pregnant with a pioneering method of ovarian tumor removal and subsequently gave birth to a healthy baby by ectopic and caesarean section.
Reproductive Robotic and Endoscopic Surgery Available to You
 The sophisticated flexible robotic microtools and robotic camera are inserted through just one 1.5cm incision below the woman's navel. The insertion of the tools is done under direct 3D vision, without anything touching the swollen pregnant uterus. 
Robotic surgery is swift in restoring fertility, but heals almost painlessly too. Typical examples of surgery are  as follows:
Endometriosis
Ovarian cysts
Pathological fallopian tubes
Fibroids
Greece is a world leader in Robotic Surgery
2006
A Greek Doctor – one of the three pioneers worldwide – successfully implements robotic surgery in Greece.
2009
In a world first, Greek surgeons perform double robotic surgery in a large private clinic on an 11-year-old boy and an 8-year-old girl, who undergo two operations at the same time.
2011
In a world first a Greek doctor after being invited by Intuitive Surgical successfully performs the world's first robotic surgery through a single incision (Single Site Robotic Surgery), and in the next 5 years more than 350 first robotic surgeries of this kind follow, of which four were performed during pregnancy.
2023
A world-renowned and internationally distinguished Greek surgeon participates in a simulation of a remote surgical operation, through the use of 5G technology always combined with robotics.
2023
A Greek surgeon is awarded by Intuitive Surgical, an American company, based in California, USA, as the world's leading general surgeon in robotic surgery. The Greek doctor's leadership in robotic general surgery and the advanced robotic machines procured by his team act as a magnet for many hospital surgeons worldwide, who travel to Athens to be trained by the distinguished doctor. At the same time, he is in high demand worldwide to supervise and support other robotic surgeons.
Robotic Surgery Available to You
Single-incision robotic surgery is at the forefront of minimally invasive surgery developments. In addition to the "disappearance" of surgical scars, it reduces postoperative pain and allows faster recovery and discharge from the hospital. Robotic surgery available to you through us is:
General surgery
Cardiac surgery
Thoracic surgery
Vascular surgery
Pediatric surgery
Esophagus – stomach, pancreas, liver – biliary, small and large intestine surgeries,
Obesity and metabolic surgery
Abdominal wall hernias
Athlete's hernia
Adrenal,
Spleen
Internal genital and retroperitoneal tumors
Greek robotic departments have become international centers of reference and excellence and collaborate with university institutions in Greece and abroad. They are continuously being recognised for their work in:
single-incision robotic cholecystectomy
single-incision robotic semi-colectomy
robotic diaphragmatic repair for gastroesophageal reflux disease
robotic varicocele repair via single incision
robotic pericardial cystectomy
single-incision robotic domeplasty
single-incision renal cystectomy
single-incision hysterectomy
Whipple pancreatoduodenectomy procedures
Get whatever dental work you need safely, swiftly, from world recognised experts at a fraction of the cost elsewhere
The science of dentistry in Greece has literally been transformed in recent decades. Over the last fifteen years have been taking advantage of the possibilities offered by robots in modern dentistry and in a single visit you get a digital impression, fabrication and restoration. Dental implants with the direct charging method, in a few hours offers the perfect teeth we all desire under our smile. The procedures are safe and accurate, offer speedy healing and recovery time and most importantly you get a new tooth in an hour or even your entire set in just a few hours.


Dentistry in Greece is also being recognised the world over too. In the field of medical tourism, a Greek dental clinic was awarded the best dental clinic in the world at the Medical Tourism IMTJ Awards. Other distinctions have been awarded from the German Organization TEMOS and the International Diplomatic Council.
What's more, in Greece, the cost of dental work is 20%-30% of the equivalent abroad.



Explore some of the treatments we can arrange for you:



Ceramic reconstruction: (CEREC©): This is a combination of machines (scanning camera – production unit) allows robotic prosthetic all-ceramic restoration in a single visit. 630 different materials are used and the whole procedure is oof the best quality.

Interactive teledentistry: Guidance from the specialist without the need to move the patient. Before you come to Greece, a complete file is created and all necessary and all necessary preparation carried out, saving you time and fuss.
Bonding techniques of "sculpture" on the teeth: It reshapes the look and appearance of the teeth with impressive results on each jaw, (for 8-10 teeth) in about 2 hours and lasting 5-10 years.
Reverse face ageing: Restoration of worn dentition and a youthful appearance enhanced by anti-aging techniques such as botox, hyaluronic addition and many other methods.
Hollywood smile: Multi-star Cosmetic Dentistry
Teeth lifting
Green dentistry
In 2022 the Hellenic Dental Federation received an international award for its campaign for World Oral Health Day.
Robotic Orthopedic Rehabilitation
Join the Revolution and Enjoy Movement You Haven't in Years
Greek hospitals have technology for Robotic Assisted Operations and have received accolades such as "Center of Excellence for Robotic Surgery MAKO" which few centers worldwide possess.
The robotic technology, the precision with 3D pre-operative planning with a CT-Scan and the efficiency of the operations in most cases, allows patients to walk with assistance in less than 24 hours.
40% of surgery is performed pre-surgery. Revolutionary software allows the doctor to make corrections to the axis, size and placement of the damaged knee/hip in a 3D computer model offering immediate patient mobilization
Orthopedic Innovative Rehabilitation
There is Always Something New Happening in Greek Orthopedics
Our partners offer the most modern research applications in the field of musculoskeletal, sports physiotherapy and orthopedic science. Examples of the treatments we can arrange for you are:
Percutaneous heloxation: In geriatric or biologically young individuals, the femoral head is retained and no metal is placed. It offers excellent results with the patient returning home in 48 hours.
Flashwave: This is a small revolution and a new treatment with unique results based on cellular "communication" and an acoustic wave that allows us to "talk" to our cells and tell them what to do.
Hyperbaric oxygen therapy (HBO): It is the method of administering oxygen inside special chambers at pressures greater than atmospheric pressure.
The Anterior Supine Intermuscular (ASI) Method: It is a technique for total hip arthroplasty, minimally invasive and offers multiple benefits for the patient.
Specialized orthopedic pain treatment: It is special administration of therapeutic drugs at the site of the lesion, that treats lower back pain, disc disease, arthritis of the knee, shoulder and other joints. Lower back pain is cured in over 95% of cases, thus avoiding surgery.
Stem cells and growth factors for the treatment of arthritis and tendonitis: An injection of bioactive additives is administered at the site of the damaged joint or tendon. It is done in the doctor's office and the patient leaves immediately.
Physio-Medical Rehabilitation
Years of Experience and Excellent Care Offer You the Best Rehabilitation in Beautiful Surroundings
Our partners include doctors and physiotherapists, with years of experience and success in enhancing the physical and mental abilities patients and where possible offer therapy using natural means. Services we can provide for you include:
Physiotherapy
Hydrotherapy-therapeutic pools
Occupational therapy
Word therapy
Therapeutic exercise
Hand massage care
Music therapy
Acupuncture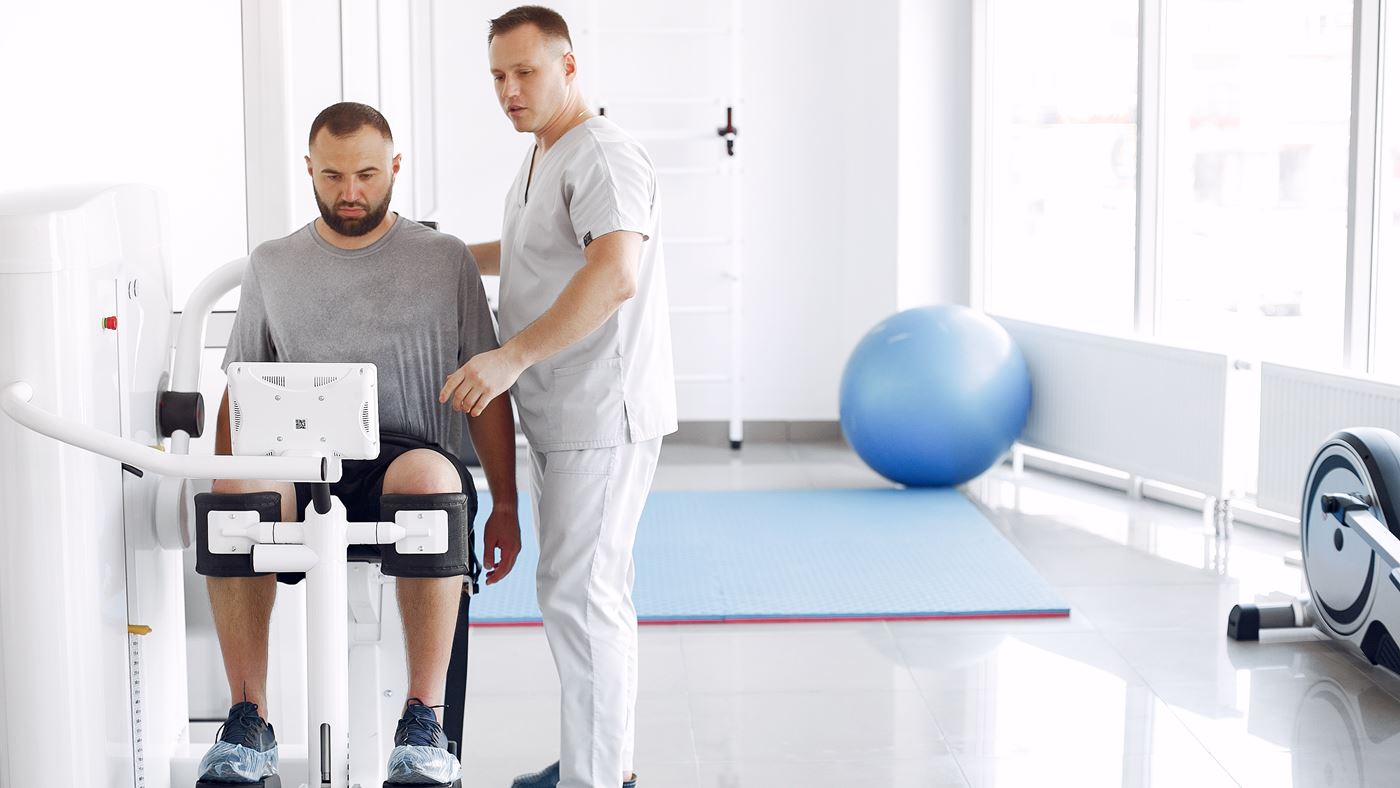 Speaking Can Be Yours Again
MedAthens' network of logo therapists treats voice and swallowing disorders with modern specialized equipment and they design tailored individualized rehabilitation programmes for you. Our partners are fluent in English too. Services offered include:
Diagnosis and Treatment of Dysphonia and Voice Dysfunction (persistent hoarseness, change in voice timbre) with planning of rehabilitation programs.
Treatment of Dysphagia or Dysphagia
Vocal cord lifting
Speech therapy sessions with visual-acoustic feedback methods, written notes, instructions and progress reports
In the midst of covid-19 successful kidney transplants highlight the medical skill, expertise, rich clinical and research work in kidney transplantation. If you need a transplant contact us for further details 
Innovative hemodialysis units in the MedAthens network provide you with the possibility of therapeutic exercise to music during hemodialysis with the highest possible standards and with careful consideration of your particular needs.
Greece Offers You Some of the Best Vision in in the World!
Artificial Intelligence with a world premiere in 2019 in Greece is used for ophthalmological operations, available even for the most difficult cases of myopia correction. The operations are performed with amazing precision and complete tailor-made treatment is offered in every case.

Hope for curable blindness gives treatment with Special Light, a technique that has been pioneered globally in Greece. Treatment with Special Light, applied in Greece, has given real hope for what was previously incurable blindness.

The Macular Mechanism is the first radiation therapy machine in Greece and the 2nd worldwide which constitutes the latest therapeutic evolution of macular degeneration.

In Athens, the first private clinic in the world in which the microscopic telescope is implanted in patients with advanced macular degeneration and low vision was set up.
A groundbreaking operation, both for Greek and international medical standards, was carried out by Greek doctors treating a rare disease that threatened an 80-year-old man with blindness.This rare incident was published in the internationally prestigious "Ophthalmology Journal". The head of the group of Greek doctors and an eminent ophthalmic surgeon presented the pioneering operation at the World Ophthalmology Congress, in Orlando, USA, June 13-15, 2022.
Other treatments our network can offer you are:


Waterfall removal
Cornea Surgery
Refractive Surgery (Myopia-Astigmatism-Hyperopia
Glaucoma
Diabetic Adendiculitis
Bottom
Pediatric ophthalmology & Strabismus
Ophthalmoplasty