The most influential culture in history?!
What would we have done without democracy?
It was the ancient Greeks in the 4th and 5th centuary BC who grappled with democracy - a Greek word meaning that the community chooses its rulers or the community rules. It was messy and hard fought, but the ancient Greeks were the ones to wrestle with better and more just governance; a struggle that has gone on to influence and guide civilisations across the world.
Athens is the English name for Athena, who is the god of wisdom. The ancient Greek's wisdom flourished in philosophy (which means the love of wisdom) and from them we have acquired great understanding and insight into education, the meaning of life, politics, warefare and rational thought.
Breathtaking art & literature
Greek tragedy shows us how the Greeks dealt with suffering, but tragedy was only one genre of some of the great epics that were to be written and performed in Athens and the Greek world.  Homer's works of the Odyssey and the Iliad, are some of the most influential human writings for their story telling and insight into the human struggle.
When it comes to sculpture, the Greeks were the first to create the kind of craft that would produce lifelike impressions of humans and gods.
Ancient science that is still ground breaking
Greece has a plethora of scientists who lived 2000 plus years ago, yet whose work transformed the way science and medicine developed. Perhaps more than any other nation they had the most brilliant minds in history.
They not only made discoveries but taught us how to observe and think about science. From anatomy, astronomy, biology to mathematics it was the Greeks who are responsible for most of what you know about science.
We recommend and create personalised cultural experiences based on your interests, insights and preferences. Browse them for yourself and let us know what you are interested in doing.
Museum and Archaeological Tours from a Fresh Perspective
A private tour of the Acropolis, the most popular tourist attractions in Athens giving visitors a more personalised and intimate experience. You will learn the secrets of ancient architecture monuments and other hidden historical treasures all around Athens, to give you a deeper understanding of Greek history and culture.
Theatrical Plays and Cultural Events
Through our local networks we will arrange for you a wide choice of cultural events and theatrical productions for you to enjoy while staying with us, such as the wonderful events put on here at the Herodio Theatre.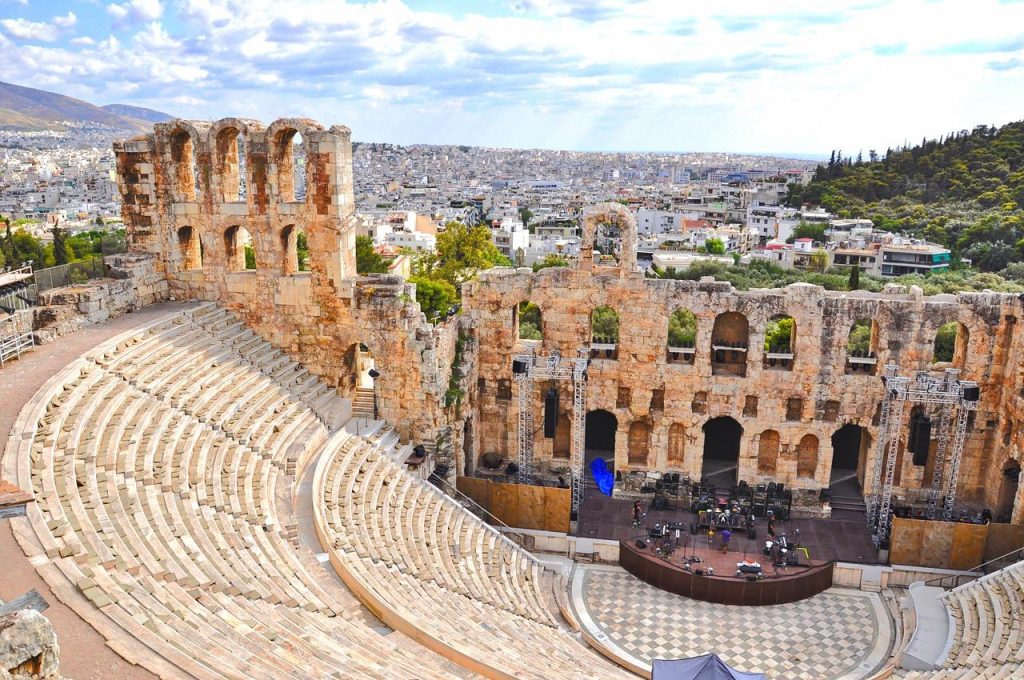 Get Married in Ancient Greek Style
We can arrange for you to either get married or renew your vows in an ancient Greek style and setting. 
Beginners Greek Language Course
Bill Gates said that. "Greek with its mathematical structure is the language of IT and the new generation of advanced computers, because only in it are there no limits."
We offer you:
Free webinars for learning quick basic Greek before visiting Greece.
Following the teaching of the Greek language with an original technique, to essentially acquire knowledge of the structure of Greek as well as the interpretation and understanding of Greek words, either on line or in Greece.
Wine and Dine and Modern Greek Culture
We offer:
Greek Cooking Class with a Local Chef. Athens is known for its healthy Mediterranean cuisine and visitors can learn to prepare traditional Greek dishes with a local chef in a private cooking class. They can also visit a local market to select fresh ingredients and learn about the history and culture behind Greek cuisine and get useful information on nutrition and healthy eating. We can also help you with a personalised nutrition plans based on your individual DNA.
Wine Tasting in Athens: Athens has a long history of winemaking, and visitors can taste some of the best Greek wines in a private wine tasting experience. They can also learn about the history of Greek winemaking and the different grape varieties.
Traditional Greek Music and Dance Performance and ancient dancing: Visitors can enjoy a private performance of traditional Greek music and dance, featuring local musicians and dancers. This can provide a glimpse into Greek culture and history, and create a memorable experience for visitors.